2021-04-26
The "Olicamp Space-Saver Cup" is a metal cup with fold-out handles, available for about $11.
It's called "space-saver" because it's designed to nest conveniently on the end of a Nalgene 1 quart water bottle or similar:
At more than a quarter of a pound (5.4 oz.), it's a bit heavy for someone who just wants an ultra-light backpacking cup. (Note: there are aluminum and titanium versions of this cup, if weight is more of an issue.) This one is made from very sturdy stainless steel, however, which has its own attractions. I thought it might be a good component of a small cook kit that, while not the lightest, might be the most bomb-proof and compact of its type.
A weight purist would just use some aluminum foil for a lid, but I found the "LWO Stainless Universal Cup Lid" at Ben's Outdoor Products, which has a ruggedness that matches the cup.
The "G.A.K New Stainless Steel Bottle Backpacking Stove" is designed for use with the Olicamp cup or similar. It can nest on the outside of the cup. It's about $13 at Amazon.
It's intended to be used with solid fuel tablets (e.g. Esbit tabs) or twigs as fuel. Reviewers state that it is too short to be used with Sterno cans. One reviewer claimed success with a Trangia burner, but said it was necessary to create a gap between the top of the stove and the pot in order for it to work.
Since I wanted to use a Trangia burner, I drilled some 1/8 inch holes in the top, and then used 3/16 inch long pan-head 4-40 screws (with two 4-40 nuts per screw) to create some stand-offs.
This puts the botton of the pot slightly more than 3/4" above the Trangia burner. That's less than what is said to be the optimum height, but I was concerned with the cup falling off the stove if I made the stand-offs too high. I used the edge of a file to rough up the top nuts, in the hope of creating a little more friction so the cup wouldn't slide around on top of the stove as much: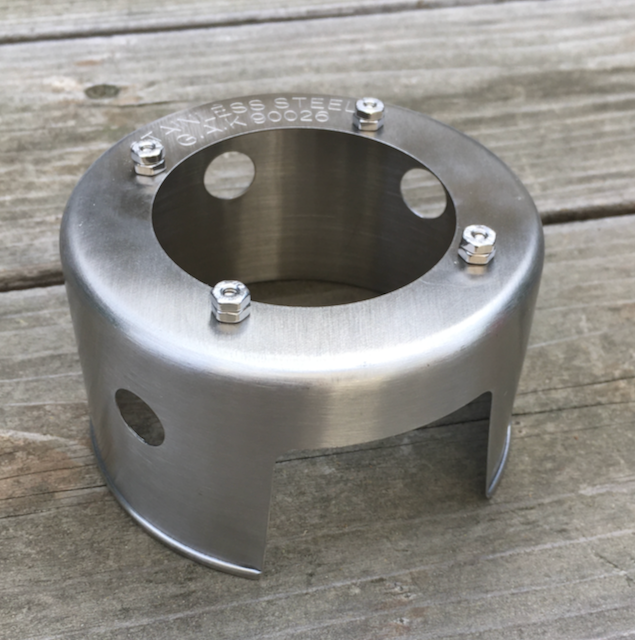 The whole kit nests nicely together: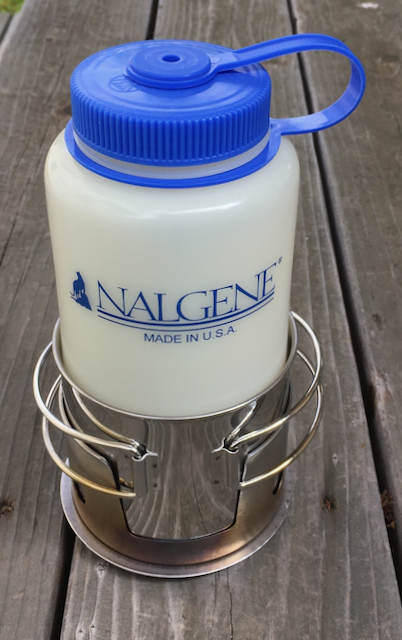 Here's the setup of the stove in use with a Trangia burner. Because the stove can get quite hot, I made a 6"x6" pad from a disposable aluminum roasting pan to use as a base.
Bringing 16 oz. of water took about 9 minutes to bring to a boil, in outside conditions with a gentle breeze and no additional windscreen.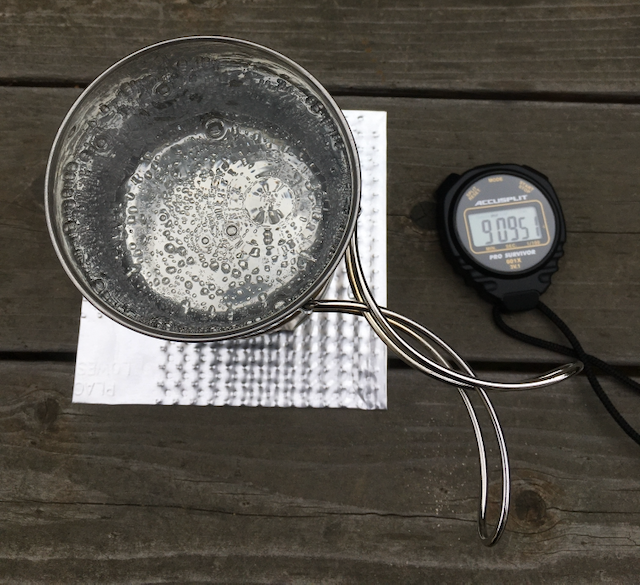 Because the stove gets very hot, a useful addition is some pliers (e.g., in a Leatherman tool) to lift the stove off the burner when done; then the Trangia burner can be put out with its own lid.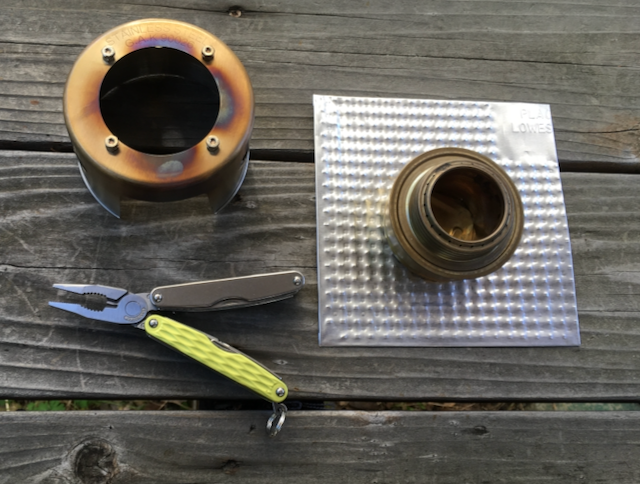 Total weight of cup, stove, and lid is 10.3 oz. The Trangia burner adds another 4.0 oz. to the kit.
---
To contact the author, send email.